In part one (elsewhere on this website) Gerard Richards chronicled the commercial operations of this mini motorsport's boom years.
The baton passed to the club scene, covered here, and the growing interest among collectors 
By Gerard Richards
No story reflecting on the history of New Zealand slot car racing would be complete without a nod to the amazing resilience of the Henderson Miniature Motor Racing Club. Started in 1962 in a barn in Swanson, the club then leased land from New Zealand Railways by the railway tracks on the western line approach to Henderson, Auckland, and club members built their clubrooms. The club has never stopped, nor has it left this venue. In the early days at Henderson, Russell Philpott was a revered stalwart of the club. Frank Hellawell remembers him as a great organizer and leader. 
"There was racing five days a week for juniors and seniors — fabulous times," he said. 
Sure there have been many barren times in later years, when support has dropped to bedrock, but somehow the club has kept going and continues to thrive. It is also one of the few in the country to boast a permanent drag strip along with its challenging main track. The clubhouse was extended at one point a number of years back and this has allowed a larger circuit. Ivan Bailey is currently the president.
Henderson's world-class racers
The Henderson club has produced several world-class slot car racers. Chris Radisich, brother of Paul — who honed skills of his own at Henderson in 1970 — did extremely well in the US. He won a world title there and now lives stateside. He has also held the prestigious office of president of the United Slot Racers Association. Dave Gick from Henderson also won a class at the world champs.
Other legendary racers came out of Henderson: Frank Hellawell, Ron Lucca, Kevin Caughey, and John Crothers amongst them. In 1976, John Crothers had the honour of being presented with a championship-winner's trophy by none other than Denny Hulme, New Zealand's only Formula 1 World Champion, who was a special guest at the meeting.
Ready to race, or not?
Various different classes and scales of racing have predominated at Henderson over the years and these trends have been reflected at other tracks around the country. In the '60s, 24th scale was the go-to class but that changed to 32nd scale in the early '70s, before slot car racing fell out of favour in the mid to late '70s. There was a renaissance on the club scene from the mid  to late '80s and even a few commercial raceways were attempted, namely in Panmure and Rotorua.
The big issue seemingly facing contemporary club-based slot car racing is what role the now widely available and beautifully made off-the-shelf or RTR (ready to race) cars play on the club scene. Scalextric, Pioneer, Ninco, SCX and Carrera are among the main brands in this category while Policar, Slot.it, and Thunderslot are at the top end of the commercially made cars. In many ways these cars are the future of slot car racing. However, there is a reluctance to give them open access because it is thought, in some quarters, that they could be detrimental to the numbers racing the faster but more expensive custom scratch-built classes — and possibly even damage the tracks.
Great venues — in Auckland
Pit Stop was by no means the only major slot car venue in the Queen City. It wasn't even the first. In 1965, Frank Hellawell, who became manager of Pit Stop, stumbled across a slot car track that was operating under an amusement centre called Playland, opposite the General Post Office in lower Queen St. It was owned and run by Neville Hewitt and Derek Wooton, both of whom became hot racers on the national scene from the mid '60s.
Frank started out in slot cars by buying a Scalextric track in Australia in 1963 and bringing it back to New Zealand. He set up a four-lane track, filling his entire bedroom in his parent's Orakei house, and was kingpin among his mates until he hit the big time at Playland, Pit Stop, and Henderson.
He moved the track at Playland into the purpose-built Pit Stop facility, two floors above the Regent Theatre on Queen St. 
Frank recalls, "Friday nights were a roaring success. It was absolute chaos; there was standing room only. You couldn't move!"
Down in Customs Street, Martins Toy and Hobbies had two slot car tracks out the back, including the famous loop-the-loop track on which, if your car wasn't fast enough, it plunged from the top of the arch! 
These were the two inner-city main commercial players, but there were heaps of other tracks in the greater Auckland area, which I unfortunately didn't get to visit in that fab era. A quick roll call of the tracks I'm assured were great venues includes the Hobson Slot Car Club, off Hobson St, running 32nd scale. Frank remembers it as "a magnificent track and really well run". There were tracks upstairs at Hunters Corner, Papatoetoe; in Station Road near the railway station; in Highbury/Birkenhead behind a barbers shop; in Panmure; in Manurewa; and a big one in Great North Road, Grey Lynn, near where Graeme Crosby/Red Baron Motorcycles used to be. 
Takapuna apparently had a great track near the Tudor Cinema, and reports state that for many years there was a good track in the basement of the Auckland Car Club in Stoddard Rd, Mt Roskill. During the era, lunchtime slot car racing took place at the NZBC Shortland St television studios. There was also a mobile beachside slot car track that went to functions and beaches, including Orewa — that would have been something to see, I'm sure! These are just the Auckland tracks I have heard of — there could well have been more.
And elsewhere
People have talked about a huge complex in Rotorua, with an amazing banked track, and one of the most interesting set-ups I've heard about was in Matamata. 
I quote: "A club was set up in Matamata — a farm owner had built a new house, so the old one became the clubhouse. They took down the walls and made a huge track. The main straight was a scale mile! It wasn't uncommon, apparently, to strike out with burned-out motors and fried controllers."
There would have been many other tracks in the North Island and the cities where these were located are listed in historical race result documents, but for these I have no specific background info. Certainly there were clubs and probably commercial raceways in Hamilton, Tauranga, New Plymouth, Wellington, Palmerston North, Whakatane, Manukau, Wanganui, South Auckland, and even Egmont — all of which featured on a North Island champs result sheet in 1968.
Support for the sport
The New Zealand Slot Car Association began in 1964 with the aim of coordinating and facilitating the development of the sport, plus organising and running the national championship events. It has been doing this for 56 years — making it just one year short of the world's longest running national slot car association.
Today there are 13 slot car clubs throughout the country, indicating perhaps a resurgence of interest in the sport. The list of clubs is as follows: Auckland, Henderson Miniature Motor Racing Club; Bay of Plenty, Tauranga Slot Racing Club; Waikato, Hamilton Slot Car Club; New Plymouth, Taranaki Slot Car Club; Hawke's Bay, Hawke's Bay Model Racing Club; Manawatu, Palmerston North Slot Car Club; Wellington, Wellington Slot Car Club; Nelson, Nelson Slot Car Club; Marlborough, Marlborough Slot Car Club; Canterbury, Christchurch Slot Car Club, Topp Slots Motorplex; Dunedin, Pitlane Slot Car Club.
A long and complex story
In New Zealand, most of us aged 60 and over were indoctrinated into slot cars, through the home track scene and racing at our mates' places. The Scalextric track was the foundation that fostered our passion. We had a Scalextric track from around 196–64 and later a Hurricane set from 1970. That might have been the case for thousands of others and I have no doubt they remember the sights, sounds, and smells fondly. Then there are thousands more who amplified the experience, spending many happy hours at club and commercial tracks, each one a unique history.
The New Zealand slot car racing story is a long, complex, and fascinating scenario, to which I can't do full justice here as there is still so much to rediscover and collate. I have heard anecdotes of club excursions to other regional tracks, many spiced with misadventure and colourful outcomes, which should be recorded as part of this rich tapestry.
For me, this article is an attempt to highlight this somewhat neglected arena of our motor racing and social history and to start gathering documents, photos, and stories from an unexplored part of an iconic era — one that coincided with this activity's first massive wave of popularity. Very little information is recorded about the '60s–'70s New Zealand slot racing era. Most information comes by word of mouth. Also, everyone still around from that time, myself included, is getting on in years, so I'm keen to gather what information I can from those who can recall it directly.
Interest rekindled
Like that of many of my slot car racing cohorts, most of my vintage slot car racing hardware has fallen prey to life's unforeseen crash and burn periods. I count myself lucky to have retained two relics, but I didn't think much about it for a long time. Then, in 2003 I chanced upon an old slot car racing buddy and he told me he had three of my early cars if I wanted them.
This planted in me the seed of fascination for the old kit cars of the '60s in particular. I have added another six to my collection since then. These cars are now highly sought after — a quick check on EBay is testament to that!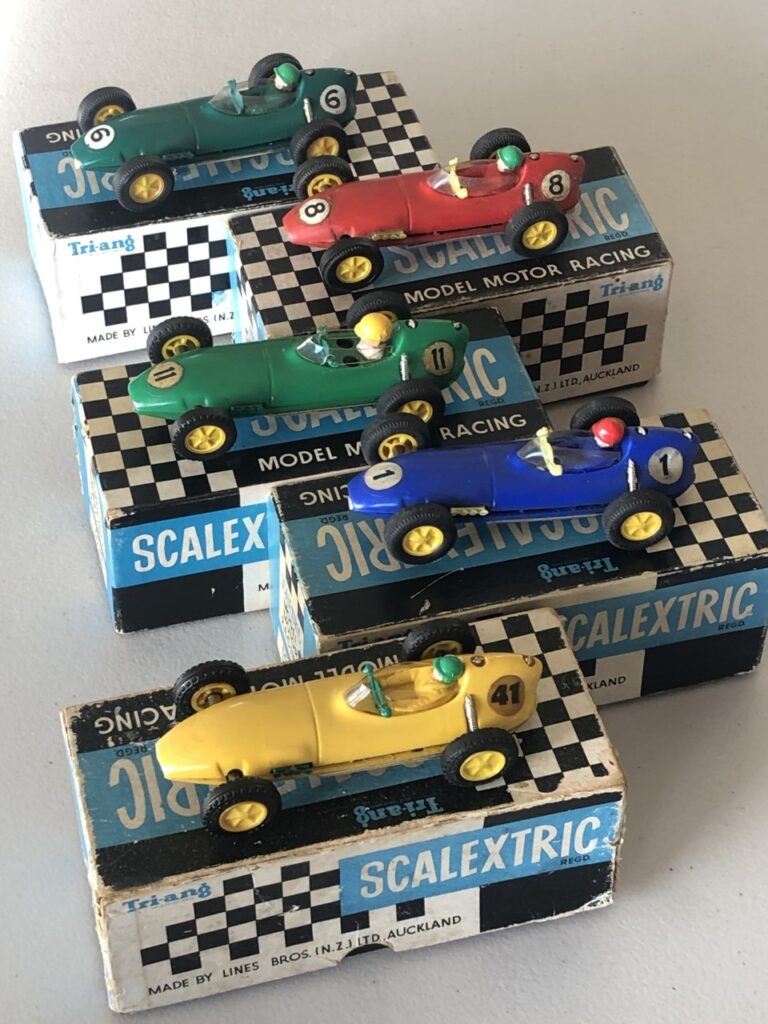 Historic record
As mentioned, with the acquisition of more retro original slot cars has come a resurgence of my interest in this historic era in the Shaky Isles. That includes not just the background of commercial and club racing, or the products of the local and imported slot car industry, but a documenting and saving of material and images of the early racing period. I reckon collecting or scanning the memorabilia and paraphernalia of that era is urgent and important. I've started collecting historic digital images from the entertainment's heyday and would be glad to receive further images for the archive; advertising stuff and slot car catalogues and the like are definitely of interest.
People who have in-depth knowledge of the New Zealand slot car industry are invaluable. Peter Davison, who runs Constellation Hobbies in North Harbour, Auckland, is one of those people. A slot-car junkie to the core, he has a vast knowledge of local and international period kit cars, plus accessories from the '60s and '70s. Peter has been documenting much of the early New Zealand slot cars and parts scene on a New Zealand page on Slotblog, an American slot car forum.
Another interesting site to check out is the New Zealand Slot Racers' Facebook page, which is good for current slot car club activities and has some retro stuff. 'The Roaring Season', a New Zealand historical motor racing website administered by Steve Holmes, also has a thread on early New Zealand slot car racing memories, with some interesting images. 
The goal here is to collect the images, in particular, and eventually have them loaded onto a blog or a historical website. If you have anything interesting, I can be reached by email at: [email protected]. It may be worth having a dig in that musty old box in the garage or attic! 
A variation: pedal cars
Part one of this history, caught the eye of Mark Gibson, the designer of NZ Classic Car magazine. He has had his own affair with slot cars. Ten years of collecting Scalextric F1 cars led to the purchase of an unusual sideline piece of kit: a four-lane Scalextric track built on an aluminium trailer, powered by eager punters cycling bikes — four bikes for the four lanes. 
Says Mark: "Don't think this is just for kids — the adults get very competitive and it's a real hoot. You definitely feel it in the legs if you go 40 laps (around 5 minutes)." 
Mark sold the track just before Covid struck and hopes to see the new owner at an event one day. He is one of the growing number of keen collectors always on the hunt for the next pocket-sized F1 car.