When you next chat to one of our Aussie cousins, tell them they can have the rights to the Pavlova, we just want to claim their rare classic Holdens thanks.
Our main feature in this issue of the magazine is on the tale of a car that many Australian classic car lovers were hunting for that just fell into the lap of an ardent Kiwi Holden fan who was living in NSW.
This sought after EJ was offered to Stan Adams in 2010 from a neighbour living just 600m away.
"It was the fabled 'Mail Car' that was owned by her mother, which she used for local country mail delivery for years. The car was parked up for 18 years after her mother died. I handed over the $4000 without even opening the doors on a car last registered in April 1991."
The car was coated in brown dust and the clutch and brake hydraulics were frozen solid.
"People from as far away as Queensland were looking for this car because of its rarity. It was totally unmolested and, yes, there were a few scratches. I decided to leave them as they are; history!"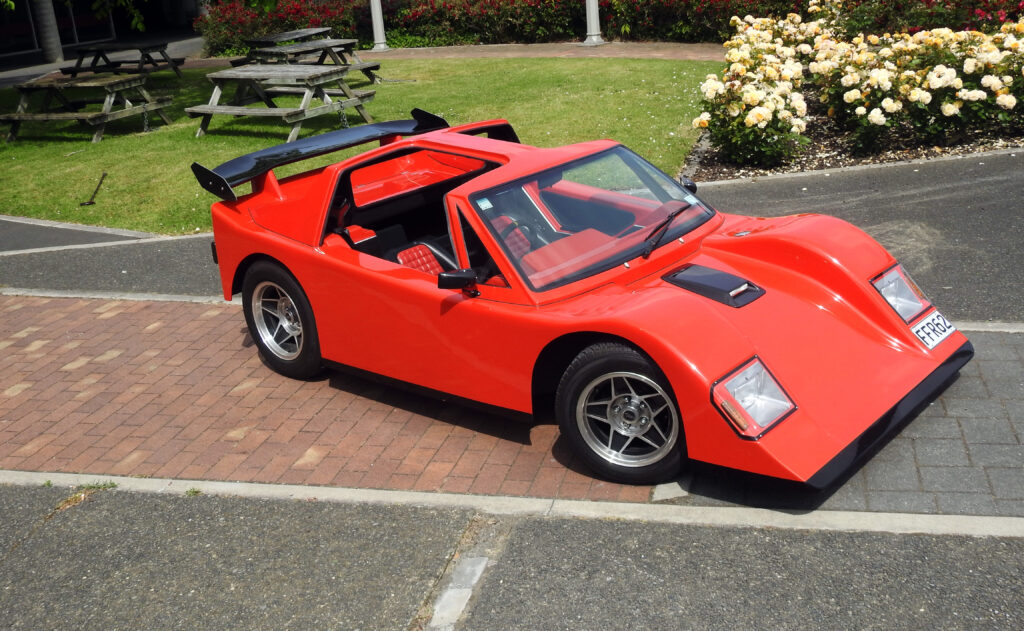 "It's merely a passing interest," insists Selby — despite owning three variants of the classic VW Beetle, including an unusual VW van that was sold as a body kit for a Subaru. In his defence he points to a 1961 Ford Thunderbird, a car that he converted to right-hand drive. However, on the VW side of the ledger, since he opened Allison Autos in Whanganui 27 years ago, Selby has built 15 VW-powered Formula First cars, followed by a beach buggy, restored a derelict Karmann Ghia, and hot-rodded a common or garden Beetle into something that has to be seen to be believed. As speed is not something generally associated with classic VWs, though, Selby is still waiting for this particular modification to catch on amongst the hot rod faithful.
It's easy to see why the Morris Minor Traveller was one of the best-loved variants of the Morris Minor. Introduced in 1953, it was equipped with the same independent torsion bar front suspension, drum brakes, and rack and pinion steering as its saloon sibling but, with their foldable rear seat increasing versatility, many Travellers were used as trade vehicles, says Derek Goddard. Derek and Gail Goddard, the owners of this superbly restored example, have run Morris Minors since before they were married in 1974.
"Our honeymoon vehicle was a blue Morris Minor van — it was a rust bucket," says Derek.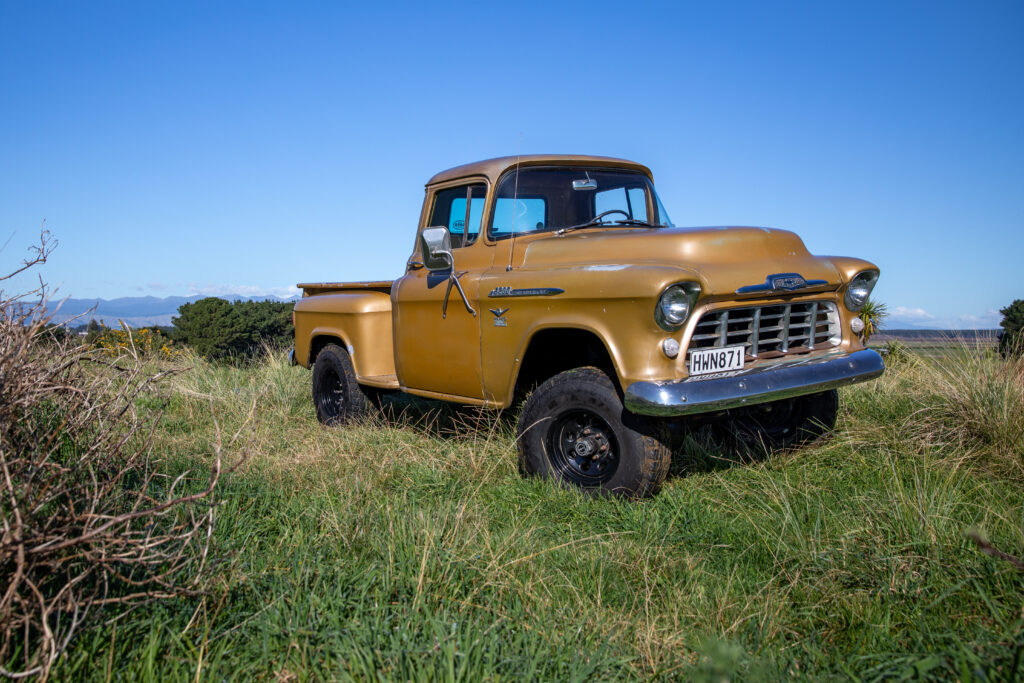 The half-ton truck here is a four-wheel drive 1955 Chevrolet owned by Murray Robinson, a car enthusiast who has owned many American cars, following the footsteps of his parents who have owned even more. Murray's first car was a 1952 Chevrolet which he still owns. He also owns a 1956 panel truck that featured in the Daily Driver section of an earlier issue of  New Zealand Classic Car magazine.
The '55-'59 Task Force pickups and trucks which also featured a panel van and station wagon in the range have always been popular and downright cool.
It's fair to say that nothing much in the classic Mercedes world gets past Mercedes-Benz Club stalwart Garry Boyce so it wasn't surprising to learn that around 15 years ago he had sniffed out an extremely rare 300SL lightweight Gullwing as well as a 1958 300SL Roadster hiding away in the Waikato. The cars were not for sale but Garry eventually managed to persuade the owner to allow him and his restoration team to take a look at the Roadster. They discovered a very distressed but largely unmolested car. The car was so original that the body had never been off the chassis, meaning most of the parts and fittings were still present and correct, as they had been fitted by the factory.
Historic Muscle Cars and Saloon Cars president Tony Roberts was delighted with the success of the sixth edition of Taupō International Motorsport Park's Historic Grand Prix held over the weekend of 21–22 January 2023.
No doubt Tony would have been chuffed even without his win in Class A in the SAS Autoparts MSC F5000 Historic GP race driving his McLaren M10A, the feature race for the meeting. Taking top honours was Brett Willis, winner overall in his Lola T332, after finishing second and third in the first two races and winning the feature race.
Riding in a genuine Ford GT40 with Geoff Manning is like living a slice of automotive history, as Donn Anderson found out over three decades ago …
The phone call in 1990 was dead easy to accept. Geoff Manning was ringing to ask if I would like to spend some time with the only genuine Ford GT40 to have driven the roads of New Zealand. There was little time to ponder since the car was destined to return to England and new owner Ted Rollason.
My answer, of course, was positive and immediate — and what a rare and fleeting experience a few days later to be driving around Auckland streets in such a stunning and wonderful machine.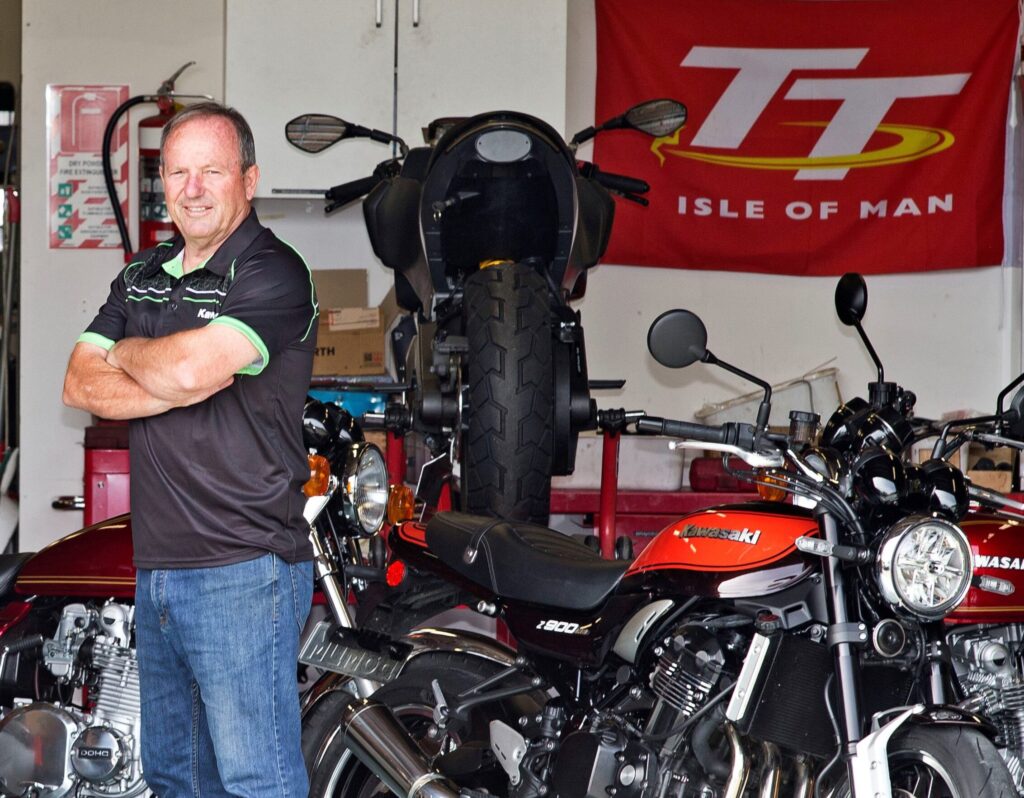 During the COVID lockdown, Michael Clark had to forego lunches with motorsport celebrities but he interviewed motorcycle racer Graeme Crosby on his direct route into the Grand Prix ranks via Zoom.
"My first actual race was at Porirua on a circuit set up around the shopping centre. I was riding a little 350cc Kawasaki, an Avenger, which was a little two-stroke 350 rotary valve with something like 10hp. Suddenly, I found myself in third spot and I'm thinking this is actually pretty good. Anyway, I think I got in second spot and we only had a couple of laps to go and I overcooked a corner and ran wide. Health and safety back in those days required you to keep the crowd back, so they got a piece of rope and tied it around a 44-gallon drum, then a 10-metre gap, and another 44-gallon drum, and so on — and I went over the kerb at great speed. I still finished second — with one of those 44-gallon drums following behind in third place. Yeah, it was a bit of an experience."
The Mustang almost ceased to exist during the late '80s. Plans were made to replace it with a re-badged front-wheel-drive Mazda MX6. The Fox-body Mustang, barely recognised as a Mustang by the ill-informed, was stumbling towards the end of the longest production run of any Mustang in history, from 1979 to 1993. The third generation Fox-body looked more like a family two-door hatchback than a sports car and sales steadily declined. Ford, who at the time owned a large percentage of Mazda, not wanting to spend money developing a new car for a dying market, believed that a restyled Mazda MX6 might be the cheapest way to give the Mustang brand a shot in the arm.
One man's drive to pay tribute to one of Bruce McLaren's victorious Can-Am cars saw him emulate the driver and constructor's ambition, innovation, and attention to detail By Patrick Harlow,
Kicking off the event, the Alpine Street Machines' Friday cruise to Bannockburn and back on the Friday was easily the biggest in the event's history. Some 380 cars created a wondrous spectacle for unsuspecting fellow road users that day, potentially tempting some to take a closer look in Cromwell over the weekend.
Saturday's car show, organised by the Southland Ford Falcon Club at the Alpha St reserve, drew perhaps a thousand or more gleaming examples of interesting cars and applied restoration skills. Chrome and flashing paintwork dazzled the eye in the bright Central Otago light everywhere you looked. It really looked as if everyone with a classic or a hot rod from across the island had seen the forecast for great weather and headed for Central Otago.
New Zealand Classic Car goes searching for the finishing touches to a classic restoration While they might seem like little jobs after a long restoration project, the final

Total Lube Guide gives you the good oil Choosing the right fluids for your car, and refreshing them regularly, is the best form of preventive maintenance. It makes driving more
Some of New Zealand's finest motorbikes will be going up for auction this Sunday, September 27, as part of the annual Webb's Classic Motorbikes auction in Parnell. The lead-up to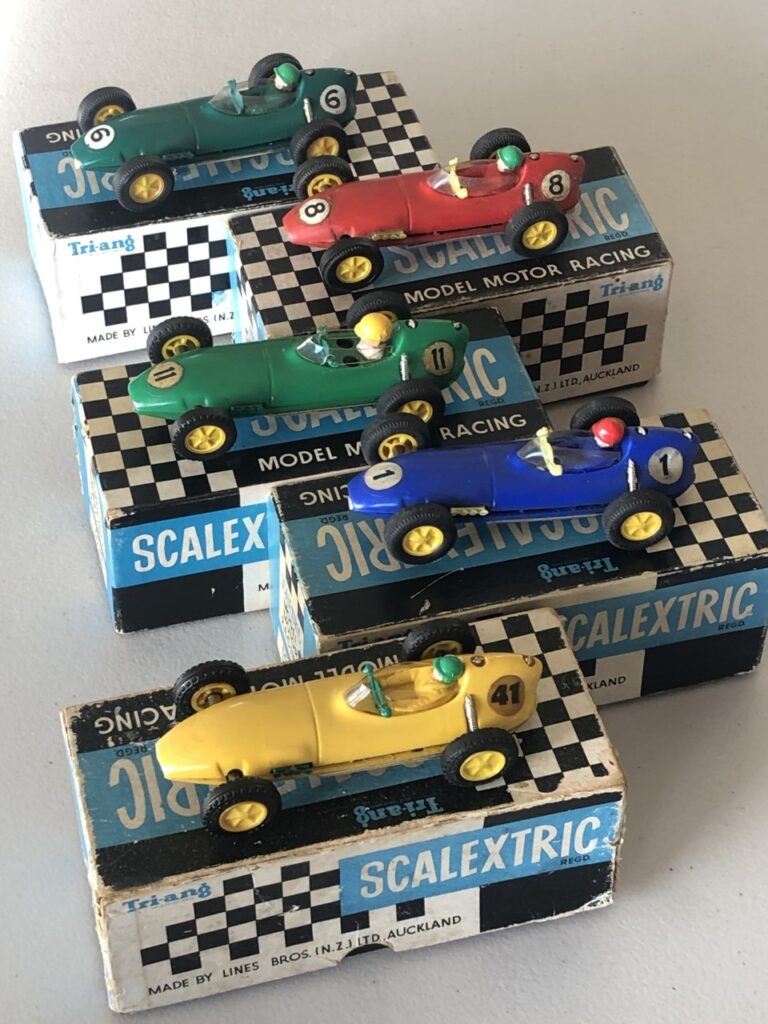 No story reflecting on the history of New Zealand slot car racing would be complete without a nod to the amazing resilience of the Henderson Miniature Motor Racing Club. Started in 1962 in a barn in Swanson, the club then leased land from New Zealand Railways by the railway tracks on the western line approach to Henderson, Auckland, and club members built their clubrooms. The club has never stopped, nor has it left this venue. In the early days at Henderson, Russell Philpott was a revered stalwart of the club. Frank Hellawell remembers him as a great organizer and leader.
"There was racing five days a week for juniors and seniors — fabulous times," he said.
Sure there have been many barren times in later years, when support has dropped to bedrock, but somehow the club has kept going and continues to thrive. It is also one of the few in the country to boast a permanent drag strip along with its challenging main track.