Having built a reputation for technologically brilliant and inspirational design, the Mazda management team, which always dared to be different, decided to take its new engine into the mainstream market and take on the fuel crisis of the early '70s at the same time.
It almost worked.
By Quinton Taylor
By 1972, Mazda was gaining ground around the globe. While still offering conventional piston-engined cars, it was seeking to establish rotary engines as the way of the future, and these were powering a wide range of vehicles from cars through to buses. They were small, light, and powerful, if commensurately thirsty — getting something for nothing was beyond even the brilliant Mazda engineers — but they had one other advantage: their small engine capacities meant they slotted into cheaper purchase tax categories in their large home market, and some overseas markets. 
Mazda bought a licence to develop and manufacture the Wankel engine in 1961. The revolutionary new way to ingest, squish, and expel the fuel–air mixture was invented by Felix Wankel in 1957. Mazda's first version of the new power plant appeared in the Mazda Cosmo in 1967. 
Those early engines were beset with wear problems that broke German carmaker NSU. Citroën also lost its shirt on its version, which powered the short-lived Citroën GS Birotor — see New Zealand Classic Car, June 2021. Many other carmakers also licensed the tech, including Alfa Romeo, American Motors, Ford, General Motors, Mercedes-Benz, Nissan, Porsche, Rolls-Royce, and Toyota, although the combination of technical challenges and the fuel crisis forced most to put the project on the back-burner. Norton and Suzuki, however, went on to produce rotary-engined motorcycles. 
Living in the light
The name Mazda was coined in October 1931. The parent company, Toyo Kogyo Co., Ltd, a cork manufacturer founded in 1920, launched a tricycle truck in 1931 called the Mazda-Go, partly named after company principal Jujiro Matsuda, which is pronounced the same way. The spelling comes from the Zoroastrian god of harmony, light, and wisdom, Ahura Mazda. How could they resist?
Persistence pays off
The big issue was vibration in the rotor edge seals, which damaged the housing, causing 'chatter marks'. The resultant poor seal caused excessive oil consumption and loss of power. The vibration even helped detach the rotor housing electroplating in as little as 200 hours of operation.
Both the R100 and the early RX-2s had these problems, plus issues with oil seals that hardened and failed. Some were replaced under warranty but with the same seals. A revised seal solved that issue but replacement wasn't free, which led to a premature end for many RX-2s. It's worth noting that, thanks to New Zealand's insistence on a local assembly industry at the time, the RX-2 was also produced here — apparently the only place outside Japan that it was made.
Mazda's engineers moved from a single rotor to twin rotor engine design and adopted lighter carbon-aluminium edge seals in 1972. Mazda also applied a new coating process, which involved spraying steel onto the aluminium housing and plating it in chrome. In 1974, Mazda made a definitive breakthrough, placing a sheet-metal insert with a chrome-plated surface in the housing, eliminating the complicated sprayed metal process. The new process created such a strong housing that the carbon-tipped rotors could also revert to conventional cast iron. 
While another change to address US emissions regs robbed the engine of more fuel economy, Mazda's progress with the engine gave it the confidence, in the early days of the fuel crisis, to go ahead in 1972 with plans to make a family car to gain a bigger slice of the lucrative US market than it could hope for with its dinky RX-2s (1970) and the sporty RX-3 coupes (1971). 
The larger saloon had a predecessor in the impossibly rare and beautiful Bertone-designed R130, which looks like a longer and more elegant 105-series Alfa Romeo, but was front-wheel drive. It was produced from 1969 to 1972 but in tiny numbers — just 972were built powered by the 13A rotary of 126bhp (94kW).The RX-4 four-door sedan and two-door coupe would be Mazda's first car designed specifically for the rotary engine.
The RX-4/929 platform was introduced in sedan and coupe body styles, aimed at family buyers who wanted something with plenty of room as well as performance. The buzzy screech of the rotary power plant, unfamiliar to American ears, was muted in the RX-4, and the legendary smoothness of the engine offered a unique selling point for the upmarket cars. It chimed also with a US trend away from enormous saloons and towards more personal luxury cars. On the downside, its lack of torque at lower revs must have called for some fast talking by salespeople, pointing to conventional engines' comparatively feeble power at high revs.
The RX-4 — or Luce, as it was known in its home market — was improved with the addition of the 13B engine in 1973 — a development of the 12A and nothing to do with the front-wheel-drive-only 13A. Its better emission and fuel consumption performance helped lessen the sting of the fuel crisis. The RX-4 received the stamp of approval when it made it on to Road & Track magazine's 10-best list for Best Sports Sedans, $3500–$6500 in 1975.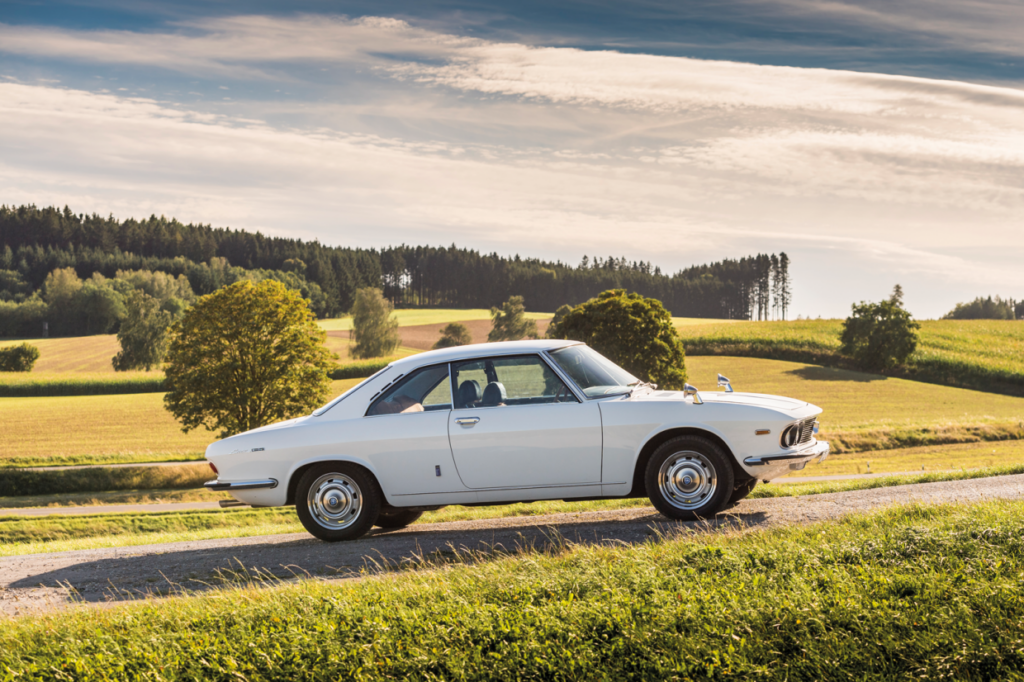 Buzzy screech
The popularity and competition success of the sportier and lighter RX-2 and RX-3 models means the RX-4 has been generally overlooked by classic car enthusiasts, but Mazda's range-topping RX-4s have their own charm. When the model was introduced in 1972, it was quite a step up in the comfort and luxury stakes, with comfortable seats, an eight-track stereo in US models, aircraft-inspired control panels in the roof, and an expansive curved dashboard containing a comprehensive range of instruments. Mazda was clearly taking on not just the Japanese opposition but BMW's positioning of being a driver-focused car. The exterior styling was also clearly aimed at the American market, with an attractive recessed grille reminiscent of muscle cars of the era and some bold round rear lights set in flashy contrasting metal panels, which was also in contrast to the more subtle appeal of its Giugiaro-designed predecessor.
Underneath, it was conventional MacPherson struts up front, with a live rear axle at the rear and drive though a four or five speed gearbox, which illustrated the growth Japanese makers were opening up in this area over their European rivals. It transferred drive to the rear axle, which was fitted with conventional drum rear brakes. 
Road testers of the day liked the RX-4's handling on the road at most speeds, which transitioned into controllable oversteer at higher speeds, but the unsophisticated rear-end got a bit bouncy on rough surfaces. Steering was accurate and braking was well up to the task, although the suspension was calibrated to the softer ride of US cars. As third gear is good for a handy 135kph and opens a very flexible performance envelope, the RX-4 makes for a fun open-road touring car. One example did run at Bathurst but its performance was overshadowed, predictably, by the lighter and quicker RX-2s and RX-3s.
Mazda, being Mazda, couldn't resist offering higher powered models of this family car. Some of the GT-optioned RX-4s were apparently impressive performers, with top speeds approaching 200kph. However, due to the rotary's need for revs to extract performance, there still wasn't a lot of pulling power below 3000rpm. While some buyers could obviously adjust, that foreign characteristic meant the car was never a runaway success. 
Nowadays, the special appeal of a rotary is much better understood. The appreciation, in both senses of the word, of early Japanese cars is growing steadily across the board, and rotaries occupy their own special bubble. Specialists throughout the country, knowledgeable in the ways of countering the earlier rotary engines' reputation for eating rotor tips, housings, and oil seals, now cater to a growing group of loyal 'rotor heads'. Understanding the fixes, maintenance requirements, and sympathetic operation are extending the life of these engines. 
An interesting debate must surely be developing on preserving originality versus the reliability and drivability offered by the myriad improvements Mazda has made to its rotary engine design over time. And not just Mazda. Pulse Performance Rotary Engineering in Whanganui built a six-rotor engine for RX-4 owner Alex Sigley in 2013. The engine attracted the attention of a team from Mazda's North American operation when it was reported that, in naturally aspirated form, it delivered around 1000bhp (746kW).
Canary catastrophe
The RX-4 model's profile is still quite low, particularly for the wagon and four-door saloon models. The coupe, with its handsome face and cool pillarless design, finds ready buyers for the few examples that appear on the market. Prices are on the increase. I'd say if you can find a genuine restorable RX-4 wagon, then grab it. They are rare here.
Cory Wilson's Dunedin-based Retro Automotive offers servicing and a comprehensive restoration service for Mazda rotaries. As reported in the February 2021 issue of New Zealand Classic Car magazine, he joined forces with a Dunedin businessman to import a rare Mazda RX3-SP from Florida in the USA. That car and five others from Cory's collection were, until recently, part of a display entitled "The Evolution of Japanese Cars" at Bill Richardson Transport World in Invercargill. One of them was this car: a 1974 Mazda RX-4 sedan. 
"One of my customers rang me up out of the blue and asked me if I wanted to buy an RX-4," says Cory. "I went around and had a wee nosy. The guy who was selling it had bought it when it was in its faded factory yellow, complete with the old supermarket battle wounds and stuff like that."
The owner had it restored but it returned from the painters in a bright canary yellow colour, definitely not the factory colour. 
"After that, he lost interest in it so I bought it off him. It still had the original motor and gearbox in it along with all the original bits, including the radiator and fan shroud. Everything was there, including its original black number plates." 
The car was taken back to the workshop, and stripped out. The body was refinished to a better standard and it was repainted in the correct factory colour of Flare Yellow. 
"All the seats and dash are the original ones out of the car. The only things we had to replace were a couple of bits missing from the driver's door. The roof lining got a hole in it when someone was storing it; other than that, the interior was pretty much factory. A mate supplied a new carpet set and did the roof lining, which was the only other thing we had to replace. The seats haven't been repaired or anything like that. It was all nice and tidy."
Lowered and lowered again
The original 12A motor was stripped down and cleaned. Cory said it was in very good condition so it was put back together, along with new seals, and painted.
"It was all mint and a stock-standard 12A. I had all the lines around the engine cleaned and replated so it looks brand new. It's definitely very quiet running, and it's hard to tell it is a rotary. I was lucky it was pretty much complete. There were only about a half-dozen little things that I had to find for it. I have a friend in Wellington with a Mazda RX-4 coupe. He spent some time and took photos of all the parts and the right bolts so we could match it all up, which was pretty good. We also did all the rewiring. It's all been undersealed, and all the bits and bolts plated to make it like new. All the painting of the RX-4 was done in-house. My brother Tim painted it," Cory says.
In the course of the restoration, Cory decided to undo a few of modifications made by its first owner.
"It's a low-kilometre car — 91,000km — and it originally came from Auckland. An old fellow owned it and he had fitted a tow bar and an extra leaf spring in the back, so the arse sat a bit high and it rode hard. I don't know how that automatic 12A towed stuff but it's still going all right. I'm the fourth owner and it's great it has survived." 
Cory says there are around 60 RX-4s still registered in New Zealand. 
He has had plenty of use out of his quiet cruiser since it was restored and re-VINed in 2016. Feedback from the Invercargill display was positive, he says.
"There was a lot of interest from the display at Transport World in Invercargill — not a lot of work yet from that display but enquiries and comments in passing from people. I get asked if the RX-4 is for sale but I'm not really interested in selling it. It would have to be on a weak day and it would have to be a pretty big number. As you know, I've got quite a few of each model so we are almost there in the display collection. We have just added a rotary-powered ute to the collection. It's a 1975 called a 'Repu', a rotary-powered utility — an American market thing. It's something we didn't have before."
Cory and his fellow collector hope to involve the Dunedin City Council in displaying and publicising the collection as a unique attraction in the area, but in the meantime they are concentrating on adding to what is already an impressive array. 
"We will hopefully have a garage to display them all in before too long. The groundworks are all done; basically it's just getting the shed up now and that will be a display shed at my home. We will still be looking for some sort of council involvement with the display; we will do that once we have everything in one place. It will potentially be open to the public at some stage."
Cory enjoys driving the RX-4. He has notched up quite a few kilometres in it since its restoration, with at least three or four trips to Rotary REunion national rallies.
Super smoot
"My cars don't just sit in the garage; I'm all about using them. I think there's no point in having a shiny piece sitting there doing nothing. We have just done a wedding with it. It will get stored for a little while but I like to drive it. It's super smooth to drive and, despite being an auto 1200, it does motor along quite well. The long wheelbase helps it ride nicely compared to the shorter RX-2 and RX-3 wheelbases, and the ride height has been lowered slightly — just an inch. It's not too bad on fuel but it's a bit dearer to run than a manual RX-3."
RX-4 sedans have not enjoyed as big a following but, as shown by the calls from prospective buyers, interest is increasing, Cory says.
"The coupe is definitely coming into its own now — especially in the last 12 months — but it's still slow in comparison to an RX-2 or RX-3 coupe." 
Cory says RX-4s are not at all common, which means they have a low profile, but that rarity could work in their favour. 
"There are a lot of coupes around but you don't see a lot of RX-4 sedans and this one has got black plates and all matching numbers." 
Parts supply is getting harder, and Cory believes that's another indicator of growing interest in early Mazdas, especially the rotaries. 
"Even regular parts, such as brakes and ball joints, are getting harder to get. As the cars are getting up there in price, people are buying up the bits so it is getting harder to find them." 
If the unique appeal of Mazda strikes a chord with you, it's worth talking to Cory and his team. You will get advice from experts and enthusiasts who use them daily. Cory can source parts that are hard to find, and build anything from a stock street motor to a full race engine generating serious horsepower at a cost less than a comparable piston engine. His premises are always full of cars under restoration, and it's an interesting place to stop and talk classics — Mazdas, of course.
MAZDA RX-4 SPECIFICATIONS
Engine: 1.2-litre twin rotor 12A Wankel type engine (feature sedan), single distributor, front mounted, rear-wheel drive  1.3-litre 13B from 1973
Carburation: Twin-choke, downdraught
Power: 12A: 120 PS (96kW) @ 7000rpm; torque:165Nm (122 ft·Ibs) @ 4000rpm 13B: 135 PS (99kW) @ 7000rpm from December 1973
Transmission: 4/5-speed manual, optional three-speed Jatco 3N7 1B automatic (feature sedan)
Suspension: MacPherson struts and coils, front; solid rear axle (3.90:1 final drive) and leaf springs
Wheels: 13-inch x 5½-inch steel wheels and 175 / 70 x SR 13-inch radial tyres
Brakes: Solid disc front and drum rear
Weight: 1188kg
Wheelbase: 2515mm
Length: 4240mm (sedan)
Width: 1660mm
Height: 1410mm
Production: RX-4 sedan: 1972–1977; coupe: 1972–1978, station wagon: 1973–1979
Performance: 0–100kph: 11.7sec; standing quarter-mile: 11.6sec; max speed: 175kph
Fuel consumption: 12A: 17.7l /100km (16mpg); the 13B offered improved fuel economy and lower emissions
Fuel tank capacity: 65 litres